Raptor-Service Customizer
Jump to navigation
Jump to search
New Eagle > Products Wiki > Raptor Platform > Raptor-Service > Raptor-Service Customizer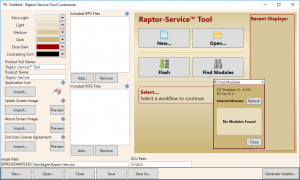 Introduction
New Eagle's Raptor-Service Tool Customizer is intended to be used alongside Raptor-Service to provide personalized branding and custom themes to meet the needs of your individual institution. The Raptor-Service Customizer allows you to package and distribute your own custom version of the Raptor-Service Tool to your service providers.
Features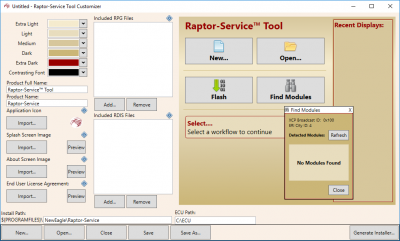 No need to know any special programming language, as everything is wrapped in an easy-to-use interface.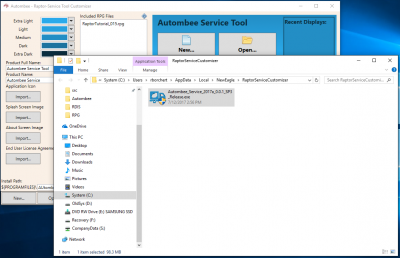 The customizer wraps everything in an installation package. You can send your customers just one file containing everything they need.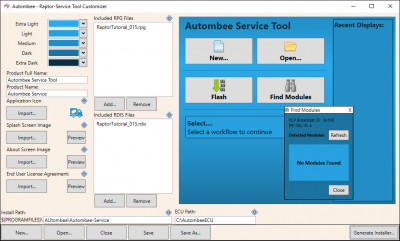 You can override the color palette of the entire application.
Use your institution's name and logo on the splash screen and application icons.
Include only the rpg and rdis files your customers need.
Custom file locations for the application and ECU files.
Save then recall custom styles when product updates need to be distributed.
Downloads
| Product Highlights | User Manual | Software |
| --- | --- | --- |
| | Coming Soon! | If you have already purchased a software license, you can download the latest release of the Raptor-Service Customizer software at software.neweagle.net. |
Frequently Asked Questions (FAQ)
For a list of common questions about the Raptor-Service Customizer, see our Raptor-Service Customizer FAQ page here.
Licensing
This product is licensed using New Eagle's common licensing infrastructure that supports either a dongle or a software-based node-locked license. For more information, please view the Raptor Licensing page.
Release Notes
For a list of all Raptor-Service Customizer releases and notes on each release, see our release notes here.
Purchase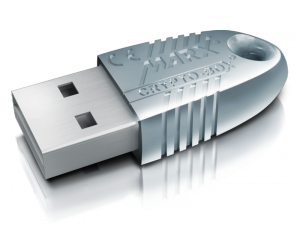 License Options
Customers can choose to purchase either a node-locked or dongle-based version of the Raptor-Service software. A dongle is a small USB device the contains the software license. The advantage of a USB dongle is that the software license can easily be passed from one computer to another. A node-locked license, on the other hand, lives on the computer itself and eliminates the need for any external licensing hardware. Unlike USB license dongles, node-locked licenses cannot be lost. While node-locked licenses can be transferred from one computer to another, the process is not as simple or fast as for a USB dongle.
Software Updates
Customers have access to the latest software releases for a period of one year after their purchase. Each software release adds new features and addresses bug fixes. If customers wish to maintain access to new software releases after their first year of using the product, they can purchase a software maintenance license. Software maintenance licenses are valid for one year and can be renewed in perpetuity.
Raptor-Service
Raptor-Service Customizer is used in conjunction with Raptor-Service. You may consider purchasing a copy of Raptor-Service when developing your customized product.
| Product | Part Number | Webstore |
| --- | --- | --- |
| Raptor-Service Software, Node-Locked | RAP-SVC-SW-01 | Purchase |
| Raptor-Service Software, RP1210 Add-on License | RAP-SW-RP1210 | Purchase |
| Raptor-Service Tool Customizer | RAP-SVC-CUSTOMIZER | Purchase |
| Maintenance Product | Part Number | Webstore |
| --- | --- | --- |
| Raptor-Service, Annual Software Maintenance | RAP-SVC-SM-01 | Purchase |