MotoService
Jump to navigation
Jump to search
New Eagle > Products Wiki > MotoHawk Platform > MotoService
Introduction
MotoService consists of two powerful applications in one package. MotoService combines MotoViewer which is an economical display and diagnostic tool and MotoUpdate for field flashing of electronic control units. MotoService is used to distribute the following two apps to vendors in one installation file.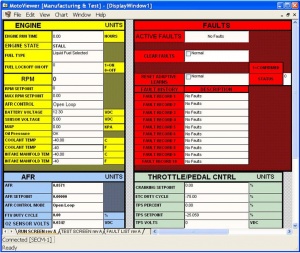 MotoViewer provides an economical solution for basic ECM data and diagnostic needs.
Key Features:
Graphical data logging
Detailed fault diagnostic list
View ECM fault history
Clear active and historic faults
View engine runtime hours
View engine sensor data
Chart option to graph data
Extensive use of Microsoft® GUI standards to promote user familiarity
Comprehensive online help system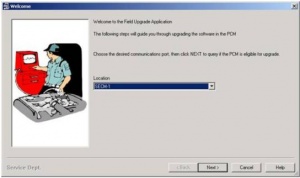 The MotoUpdate tool provides an easy solution for reprogramming ECMs in the field or service shop.
Key Features:
User friendly application—limited PC experience required to operate
Allow field/service personnel to update an ECM when new calibrations are required
Simple one-step process
Save time and money by updating the ECM on site.
Simple, easy-to-use application
Operator friendly: requires basic computer skills to initiate the programming download to ECM
Programming file can be configured to only allow reprogramming based on previous software ID eligibility
Includes a detailed user-information update readme file authored by authorized engineering staff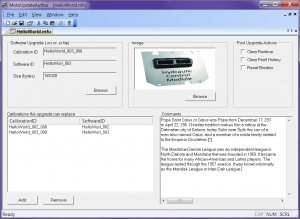 MotoUpdateAuthor is used to generate and maintain MotoUpdate (.mfu) files.
Download
Product
Download Now
Notes
MotoService 10.0.0.265
for new silver dongles only
MotoService 10.0.0.253
for new silver dongles only
MotoService 10.0.0.244
for new silver dongles only
MotoService 10.0.0.240
for new silver dongles only
MotoService 8.13.8.207
MotoService 8.13.7.192
MotoService 8.13.7.140
MotoService 8.13.7.120
MotoUpdate Author 10.0.0.253
for new silver dongles only
MotoUpdate Author 10.0.0.244
for new silver dongles only
MotoUpdate Author 10.0.0.240
for new silver dongles only
MotoUpdate Author 8.13.7.120
Buy Now
Product
Part Number
Webstore
MotoService only
ASM-MSVC-003A
Buy Now
MotoService kit
(includes single channel USB-to-CAN interface)
ASM-MSVC-003A-1
Buy Now
MotoService kit
(includes dual channel USB-to-CAN interface)
ASM-MSVC-003A-2
Buy Now
MotoService kit
(includes galvanic, dual channel USB-to-CAN interface)
ASM-MSVC-003A-2G
Buy Now
MotoService kit
(includes single channel USB-to-CAN interface)
ASM-MSVC-003A-3
Buy Now
FAQ
Can MotoService be installed on a computer with MotoTune?
No, MotoTools does not support multiple versions installed simultaneously. For all MotoTools (MotoUpdate, MotoViewer, MotoTune, and MotoServer Runtime) the user should have only one version installed. It is recommended to use Windows Add/Remove programs to uninstall the older version before starting a new installation. Also, the versions must be the same.
Is MotoService compatible with Windows 8?
No, MotoService is not currently compatible with Windows 8. This issue is being worked on, and will be fixed in a future release of MotoService.
Is the MotoService Dongle compatible with USB 3.0?
We are working on USB 3.0 issue. This problem is caused by an error in the Windows 7 driver of the USB 3.0 controller which does not treat some USB commands correctly according to the USB specifications.
However, independent from updates from Intel we are currently testing a new driver version for the CRYPTO-BOX with a workaround for this USB 3.0 problem. If you want to test this driver, please download it here: www.marx.com/ftp/temp/USB3/CBU_Test_Drv_21Jan2013.zip
IMPORTANT: The driver should work fine, but is currently not yet digitally signed! To install it under Windows 7 64Bit versions you have to restart the computer and hit the F8 key multiple times before Windows starts. Then choose "Disable Driver Signature Enforcement". This has to be done each time Windows starts when using this driver. We will offer a WHQL certified version of the driver as soon as we have finished testing and passed certification procedure. Make sure that you have plugged in the CRYPTO-BOX. Unzip the driver package. Open the Device Manager, right-click on the "CBUSB ver 2.0" device and choose "Update Driver Software" -> "Browse my computer for driver software" -> "Let me pick from a list of device drivers on my computer" -> "Have Disk". Now select the corresponding 32 or 64bit .INF file from the driver package and click "OK". If Windows says that the driver is not signed, choose that you want to install the driver anyway
Another USB 3.0 workaround
Turn off the xHCI mode in your computers BIOS settings. By this, the super-speed of the USB 3.0 interface will throttle down to high-speed (USB 2.0), in our tests it ran perfectly. Most motherboards allow to disable the xHCI mode in the BIOS selectively to individual USB 3.0 ports, so you can still use the other ports at full speed.
Why do I see an "XML load error"?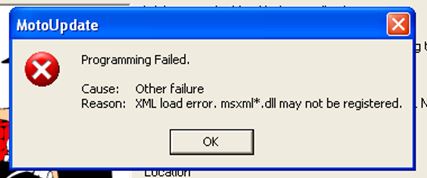 This error is caused when .net framework 4.0 becomes corrupted or deleted. Re-install .net framework 4.0 to fix the issue. The .net framework is freely available for download on the web.
How do I create an MotoService install package for my Service Technicians?
Download MotoService, unzip that file on your engineering machine, inside the zip it looked like:

Inside 'ecufiles', add 'Programs' and 'TDBDLL', so it looks like:

You can add any MFU's or MotoTune dll's that are needed for your customers, you might want to add a 'Displays' folder too, with any MotoTune displays your service technicians will need.
You can edit PortInfo.cfg to add/remove ports (these will be added/removed on the installed machine).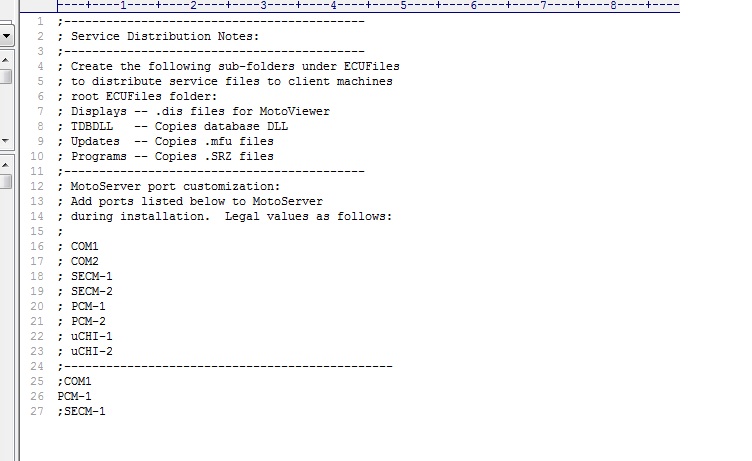 The example above will make it so that your customer has just PCM-1 on the machine after running the installer.
After these steps were complete, move the whole folder to a thumb drive (you might burn to a CD) and then install on new machine, running 'MotoService RELEASE 8.13.7.120.exe' from the thumb drive. Do not zip up the files, simply copy the whole directory out to the thumb drive (or burn to CD). See below:

When installed on a clean machine, you should see that the ECUFiles is replicated in the C:\ECUFiles\ folder required for the tools to connect to the ECU, and only port PCM-1 is available (with the example above).