Raptor-Service
Jump to navigation
Jump to search
New Eagle > Products Wiki > Raptor Platform > Raptor-Service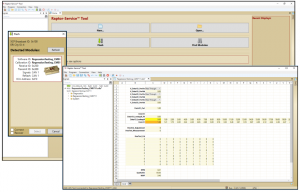 Introduction
New Eagle's Raptor-Service tool is primarily intended to be used in the field for flashing software updates or troubleshooting issues using custom displays and/or data logging. The tool's features, functionality and workflow were designed by experienced application engineers hoping to improve upon the shortcomings of other service tools currently on the market. Raptor-Service is essentially the same software as Raptor-Cal, but without the calibration capabilities.
One of Raptor-Service's most notable features is an integrated data acquisition feature that allows users to log signals within their control module at update rates as fast as 5ms. Raptor-Service users will also appreciate an integrated scan feature that eliminates the need to know the exact baud rate and/or city ID of the modules they are trying to connect to.
Raptor-Service can be used with any Raptor or MotoHawk module as well as any other modules that use the XCP calibration protocol.
New Eagle offers a calibration tool which Raptor-Service was developed from. See the comparison chart below to compare the tools: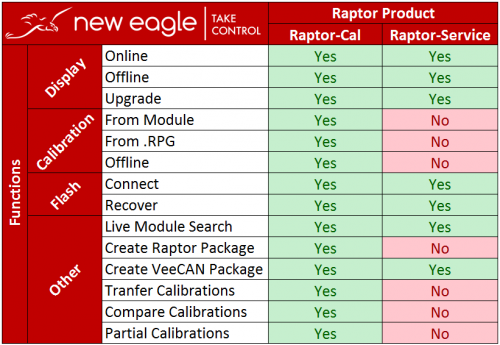 Think Raptor-Cal is what you need? Click here to learn more about Raptor-Cal.
Video Introductions
Watch the Raptor-Service Getting Started Guide to learn how to install, set up and use Raptor-Service.
Features
Customized to Your Needs
Only need to reflash modules or just want to view prebuilt displays? We can do that! Ask us about customization options.
Want to a unique brand experience for your customers? We have you covered. Take a look at our Raptor-Service customization tool (RAP-SVC-CUSTOMIZER).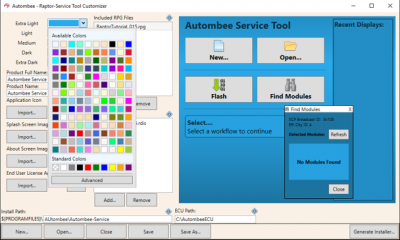 Programming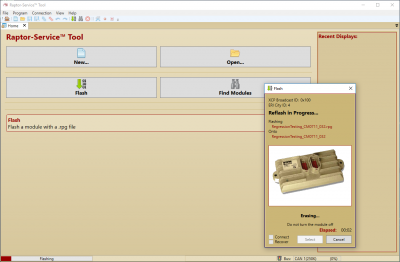 Program modules over your CAN adapter directly from Raptor-Service using a Raptor Package file.
Reflashing/Programming can be done over any Kvaser or RP1210-compliant datalink adapter.
Displays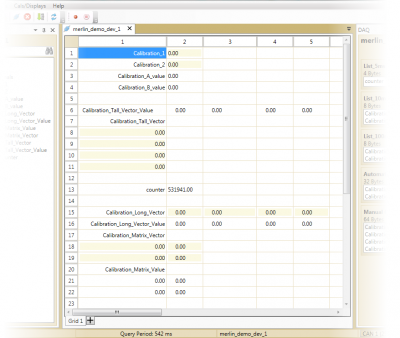 Create visually appealing displays to organize data. With multiple grids and configurable data acquisition rates, viewing live data from a controller has never been easier.

2-D Data Visualization
View two dimensional data with real-time heatmap visualization. This extra layer makes it easier to visualize numeric data as a surface gradient, providing an automatic sense of magnitude while making outliers stand out.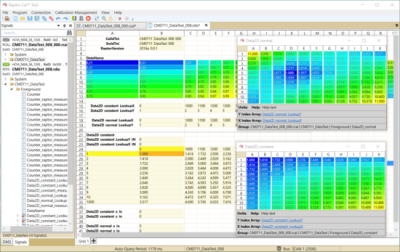 Strip Plot
Plot up to 20 signals at once with the Strip Plot tool.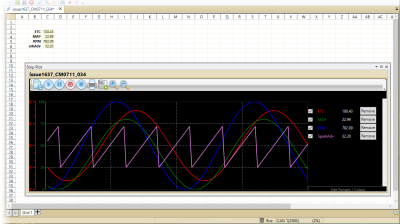 Signals update at rates up to 5 milliseconds.
Configurable series settings:
Y-Axis scale per signal
Select a custom color for each signal
Pause, pan and zoom to get the best view of the data.
Grab a screenshot to share with colleagues.
Downloads
| Product Summary | User Manual | Software |
| --- | --- | --- |
| | | If you have already purchased a software license, you can download the latest release of the Raptor-Service software at software.neweagle.net. |
Using Raptor-Service
Please read the Raptor-Service User Guide for detailed instructions on using Raptor-Service.
RP1210 Option
RP1210 is a standardized datalink access interface commonly used in the heavy-duty vehicle industry. Due to the variety of manufacturers represented on a typical heavy-duty vehicle, it could be very cumbersome if each manufacturer's control module required a separate vehicle datalink adapter in order to connect for diagnostics or reprogramming. As a result, the Technology and Maintenance Council (TMC) created a standard that allows PC tools to be created that work with any standard adapter. It is used to access the bus systems J1708/J1587, CAN, J1939 and J1850. For further information, see the RP1210 page.
Raptor-Service's RP1210 option means that your field service center may be able to use their existing cable and avoid purchasing and carrying extra cables.
Common RP1210 standard cables:
NEXIQ USB-Link
Noregon DLA
Vansco DLA
Dearborn Group DPA 4
Additional configuration and driver installation may be required in order to use your preferred datalink cable.
Frequently Asked Questions (FAQ)
Raptor-Service is essentially the same software as Raptor-Cal, but without the calibration capabilities. For a list of common questions and answers about Raptor-Service, see our Raptor-Service FAQ page or visit our support portal here.
Licensing
This product is licensed using New Eagle's common licensing infrastructure that supports either a dongle or a software-based node-locked license. For more information please view the Raptor Licensing page.
Release Notes
For a list of all Raptor-Service releases and notes on each release, see our release notes here.
Purchase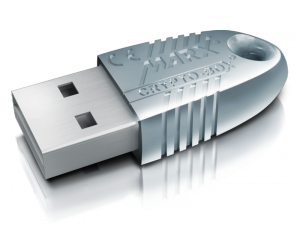 License Options
Customers can choose to purchase either a node-locked or dongle-based version of the Raptor-Service software. A dongle is a small USB device the contains the software license. The advantage of a USB dongle is that the software license can easily be passed from one computer to another. A node-locked license, on the other hand, lives on the computer itself and eliminates the need for any external licensing hardware. Unlike USB license dongles, node-locked licenses cannot be lost. While node-locked licenses can be transferred from one computer to another, the process is not as simple and fast as for a USB dongle.

Software Updates
Customers have access to the latest software releases for a period of one year after their purchase. Each software release adds new features and addresses bug fixes. If customers wish to maintain access to new software releases after their first year of using the product, they can purchase a software maintenance license. Software maintenance licenses are valid for one year and can be renewed in perpetuity.
| Product | Part Number | Webstore |
| --- | --- | --- |
| Raptor-Service Software, Node-Locked | RAP-SVC-SW-01 | Purchase |
| Raptor-Service Software, RP1210 Add-on License | RAP-SW-RP1210 | Purchase |
| Raptor-Service Tool Customizer | RAP-SVC-CUSTOMIZER | Purchase |
| Maintenance Product | Part Number | Webstore |
| --- | --- | --- |
| Raptor-Service, Annual Software Maintenance | RAP-SVC-SM-01 | Purchase |
Hardware
When considering Raptor-Service, please note it does not come with any hardware to connect to the PC. Based on your project, connecting your system to the PC will require different hardware needs.
| Suggested Purchase | Part Number | Webstore |
| --- | --- | --- |
| Kvaser Leaf Light HS v2 | KVASER 685-0 | Purchase |