Raptor VeeCAN 128
Jump to navigation
Jump to search
This product comes in two versions: a Raptor version and an SDK version. You are viewing the Raptor version. Click here to see the standard SDK version.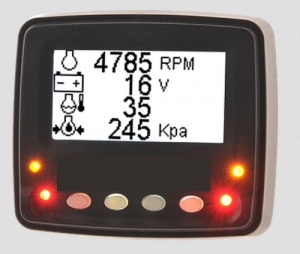 The Raptor VeeCAN 128 is a 2.3" monochrome display wrapped in a rugged, environmentally-sealed enclosure suitable for any environment. It comes standard with four warning LEDs, four tactile buttons, a 6-pin connector, one USB 2.0 port and a single CAN 2.0 channel for monitoring, data-logging or transmitting commands from the display over the CAN bus. In relatively simple applications with only CAN-based sensors and actuators, the Raptor VeeCAN 128 can even act as a low-cost, all-in-one display/controller solution.

For a link to purchase, please return to the previous page here.
Platform Benefits
2.3" LCD grayscale display
128 x 64 pixels transflective
Full sunlight readable
Versions
The VeeCAN 128 will be offered as a base unit with a general engine instrumentation option and as a Raptor easy-to-program display. An SDK in C is also available for custom programming.
Downloads